You're receiving this because you've expressed interest in this program.
Not interested anymore? Unsubscribe

Having trouble viewing this email? View in Browser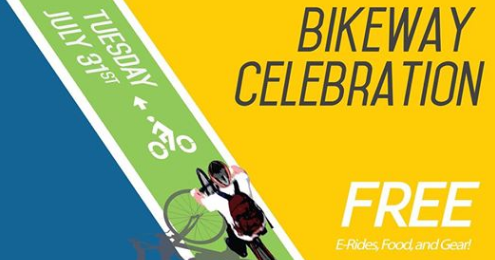 108th Ave NE Demonstration Bikeway Project Grand Opening Celebration
Join Choose Your Way Bellevue and the City of Bellevue on Tuesday, July 1 from 11:30 a.m.-1:30 p.m., along with all our friends and community partners to celebrate the grand opening of the Demonstration Bikeway Pilot Project on 108th Avenue NE from Main Street to NE 12th Street in Downtown Bellevue. Along with a ribbon cutting, there will be free e-bike rides and snacks and drinks. Riders will have a vital connection through downtown!

Click here for more details.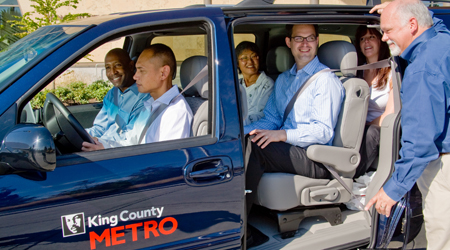 King County Metro Commuter Vans
Join Vanpool Nation! Cut your commute time and get home faster with a Metro Van.

With over 1,600 vans in the Puget Sound region, vanpooling is a better commute. Check out the King County website to find an existing vanpool or start your own group – five members gets your group on the road! Looking for additional members? Start searching at RideshareOnline.com to connect with commuters sharing a similar route.

Everything is covered in the vanpool – van, fuel, maintenance, insurance, 24-hour roadside assistance, plus an emergency ride home. Many employers subsidize vanpool fares – ask your Human Resource department. Coordinate a new Metro Van and get rewarded with a $100 gift card!

For more information visit http://www.kingcounty.gov/metrovans or call 206-625-4500 for more information!

And, remember, King County Metro is providing ways to make it easier to Vanshare as well – visit Choose Your Way Bellevue for more details!
Start a Better Commute & Get Rewarded!
You're just one bus ride, bike ride, vanpool trip, carpool trip or leisurely walk away from turning your trips into much-deserved me time.

It's easy to get started by taking the survey at JustOneTrip.org, commit to changing your drive-alone trips, select your $25 reward, and discover everything you've been missing out on while you've been sitting behind the wheel! Already using alternatives as much as possible? Share your story or refer a friend to earn up to three $25 REI gift cards!

Just One Trip's goal is to reduce drive-alone trips and help travelers in King County create a multimodal lifestyle. Sharing the ride in a bus, car or van, and using active modes such as walking and biking, reduces traffic, helps sustain our beautiful environment and creates connections in our community. And, using alternatives to driving alone allows you to enjoy your free time while not having to worry about dodging traffic or watching those red brakes lights ahead (and saving some money while you are at it too!).
Free Perks for Logging Your Commute
Congratulations to everyone who qualified for our July Perk from Evergreens Salads. If you haven't taken advantage of your coupon yet, make sure to do so before August 7. Coupon only valid at Downtown Bellevue location.

Want to get in on the fun? All you have to do is log eight or more trips in Rideshare Online before the seventh of every month and you automatically earn that month's Perk.

Questions about how the Perks Program works? Learn More.

July 2018 Newsletter
In This Issue
Choose Your Way Bellevue is concerned about your privacy. We do not rent, sell or exchange email addresses.
©2020 Choose Your Way Bellevue. All rights reserved.

You are subscribed using the following email address: sample@tailoredmail.com. Not interested anymore? Unsubscribe

Was this forwarded to you? Sign up to receive your own copy.
View our privacy policy here...
Powered by