You're receiving this because you've expressed interest in this program.
Not interested anymore? Unsubscribe

Having trouble viewing this email? View in Browser
On March 23, 2019, ST Express bus 550 will shift from the Downtown Seattle Transit Tunnel to surface streets to accommodate the Washington State Convention Center construction and future Link light rail expansion.

Due to Convention Center construction and to prepare for light rail expansion, buses will permanently leave the downtown transit tunnel. ST Express Route 550 and six Metro routes will operate on surface streets. All tunnel buses will move to surface streets on March 23, 2019.

Learn more about these changes on the Choose Your Way Bellevue Blog.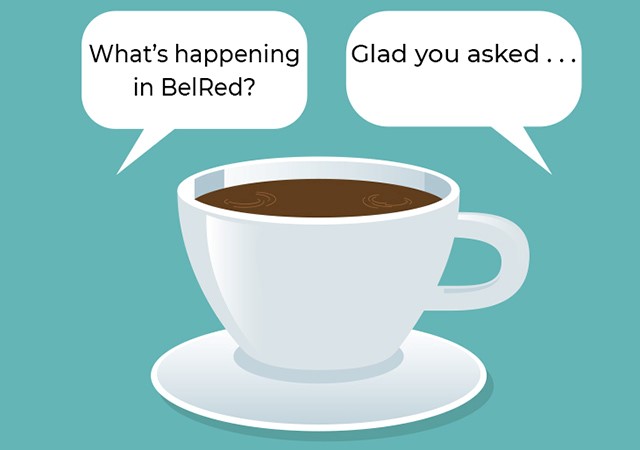 The BelRed area is changing rapidly, and it's not just East Link light rail construction. To help residents and others keep track, the city is hosting and informational event. Learn about transportation, community planning and other projects and programs transforming the BelRed corridor. Business resources and commuter transportation information also available. Talk with representatives from the City, County, State and Sound Transit! Register and learn more.
Recruiting Incentive – Metro commuter van participants get rewarded for sharing their joy of vanpooling with friends and co-workers! Existing Metro Vanpool or Vanshare members who recruit a new rider into their group or another existing Metro commuter van get a $50 gift card! Members can recruit up to three new Metro commuter van participants to receive up to $150.

Commute Coach – Every group needs a coach to start a new Metro van—and the individual who coordinates the formation of a new Metro Vanpool or Vanshare with at least four other commuters could earn a $100 gift card! The process involves identifying the roles, collecting the applications and working with Metro staff to meet program requirements. Once the group begins operating the Metro commuter van, then the coach could earn a $100 gift card for organizing the new van. Coaches can earn up to $500 for starting five new Metro commuter van groups.

2019 Incentives will be available until 7/31/2019 or until supplies last. For more information or details to sign up, please visit Kingcounty.gov/ridesharerewards.

Have you signed up for Just One Trip and earned a $25 reward yet? March is your last chance to sign up and join more than 19,000 of your neighbors who have tried biking, bussing, walking, and ridesharing. Sign up before March 31: justonetrip.org
Send us your selfie and we'll send you some fun bike goodies: Backpack, socks, bell and lights! Details on the blog!
Did you know that you can have a chance to earn awesome rewards just by logging your commute?

Through Choose Your Way Bellevue Rewards, you can be entered in a drawing for a chance to win a $100 REI gift card and other rewards just by participating and logging your non-drive-alone commute at least 8 times a month.

Jeff is our March Mover of the Month and commutes regularly from Issaquah to Bellevue by bus. By choosing to commute by bus, Jeff is less stressed, saves money with an employer subsidized bus pass, and enjoys have some "me" time on his commute. You can hear about what Jeff had to say about his commute on the Choose Your Way Bellevue blog.
Choose Your Way Bellevue is concerned about your privacy. We do not rent, sell or exchange email addresses.
©2020 Choose Your Way Bellevue. All rights reserved.

You are subscribed using the following email address: sample@tailoredmail.com. Not interested anymore? Unsubscribe

Was this forwarded to you? Sign up to receive your own copy.
View our privacy policy here...
Powered by