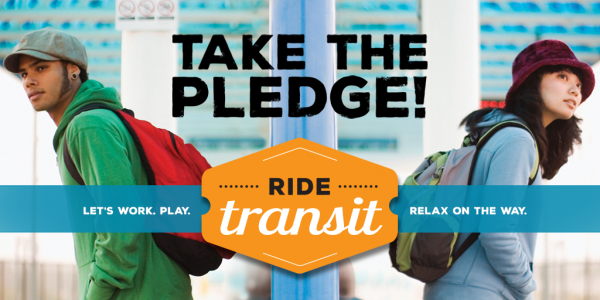 Ride Transit Month is Here!
June is Ride Transit Month in Washington Stateóa time to celebrate transit riders, showcase the benefits of riding transit, and encourage people who donít normally ride to give it a try. Transit agencies, transportation advocates, and employers across the state partner together to celebrate transit riders with events, prizes, and encouragement.

Sign up to support public transportation anytime during the month of June and be entered for a chance to win!

Whether youíre a regular rider or new to transit, thank you for helping Washington State lead the nation. Now itís time to celebrate YOU, our community of transit riders! Just choose your favorite modeóbus, light rail, train, ferry, vanpool, or water taxióand enjoy the ride.

Need an ORCA card? If you havenít ridden transit more than three times in the last 90 days, you may be eligible to receive a free ORCA card with $25 loaded on it from Choose Your Way Bellevue! Recipients must live or work in Bellevue. Click here for details.

Stop by Paddy Coyneís in Downtown on July 27 for a Rider Appreciation Event, including free food, drinks, trivia, giveaways, and a chance to sign up for the Just One Trip program, which will give you a $25 reward for increasing your non-drive-alone trips or trying a new mode!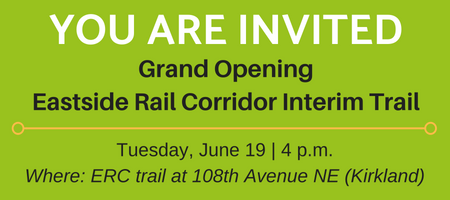 Grand Opening Eastside Rail Corridor Interim Trail
From King County: Join King County Parks and our ERC trail partners on Tuesday, June 19 at 4 p.m. as we officially open a new one-mile-long segment of the interim Eastside Rail Corridor Trail. The rails are gone, the gravel is down and weíre ready to celebrate! This segment will get you from the Cross Kirkland Corridor to the heart of the Wilburton neighborhood in Bellevue!

Click here for more details.

Blog Roundup
Visit the Choose Your Way Bellevue Blog to learn about everything bike-related that happened during the Month of May! We had classes, gourmet símores at the Bike Bash, a fantastic Bike Everywhere Day and we even got an official Bike Month Proclamation signed by the Mayor! Read all about it.

Excited about biking in Bellevue? Itís only getting better! There are facilities coming this summer in and around Downtown, including bike lane markings on 108th Ave NE and 112th Ave NE. Installation of the protected bike lane as part of the Downtown Demonstration Bikeway Pilot starts soon! Learn more.
King County Metro Fare Change Alert!
Effective July 1, Metro Buses will convert to a single Adult fare of $2.75, anytime, anywhere. 1-Zone/2-Zone fares and peak/off-peak fares will no longer apply.

ORCA LIFT, Youth, RRFP, child fares, Access, Seattle Streetcar, and Water Taxi fares will not change.

If you ride Community Transit, Pierce Transit, or Sound Transit, please check their websites for specific fare information.
South Bellevue In Motion
Do you live, work, or go to school in South Bellevue? If so, In Motion is in your neighborhood this year!

King County Metro and Hopelink are working together to encourage people who live, work, and/or go to school in South Bellevue to explore innovative ways of getting around this summer by offering a free, two-week unlimited ORCA card, or $15 REI gift card for walking or bicycling gear.

Residents, employees, and students of South Bellevue can sign up to receive their ORCA or REI card in English, Spanish, or traditional Chinese. Participants can choose to track their trips online or by postcard to be entered into weekly prize drawings for gift certificates to local businesses, and to be eligible for two grand prize drawings!