You're receiving this because you've expressed interest in this program.
Not interested anymore? Unsubscribe

Having trouble viewing this email? View in Browser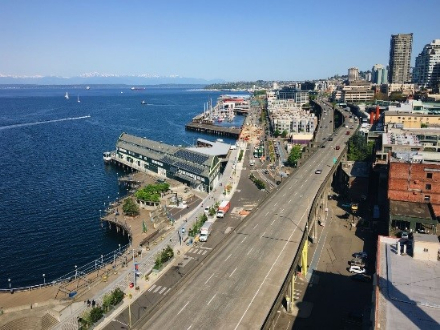 #Realign99 and the Seattle Squeeze are coming January 11
It's time to get ready - Starting January 11, 2019, the Puget Sound region will experience the longest closure of a major highway when WSDOT closes the Alaskan Way Viaduct to complete the work needed to open the SR 99 tunnel three weeks later. Everyone traveling in the region will be impacted.

With some planning and creativity, it is still possible to get where you need to go during the Seattle Squeeze. This is a great time to try a new mode of travel. Be sure to try out your new commute before January 11th! For more information on the closure visit SeattleTraffic.org and Kingcounty.gov/getready!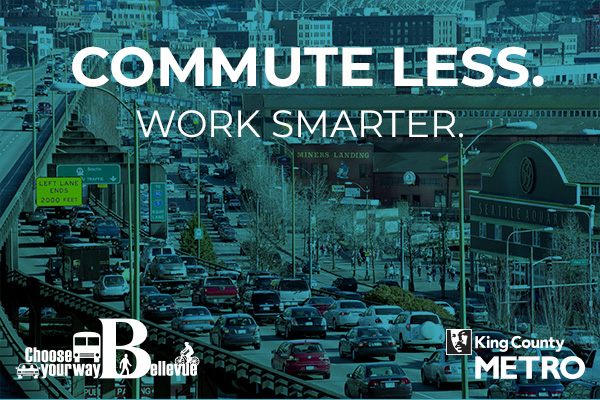 Businesses: Interested in Telework?
Choose Your Way Bellevue and King County Metro WorkSmart are hosting a free workshop on telecommute program best practices on Tuesday, December 4th in downtown Bellevue.

Telecommuting can help improve company productivity and enhance employee recruitment while decreasing overhead costs. At this workshop, youíll learn about how to implement an effective telecommute program that benefits your businessís bottom line and improves work/life balance. Complimentary lunch will be provided. Click here for more details and to RSVP.
Your ride, connected. During this pilot, travel for free with Ride2 to/from the Eastgate Park & Ride and connect to bus service to Downtown Seattle, the University District, Downtown Bellevue, and Issaquah. What does this mean for you if you work in the Eastgate/Factoria area? It means you can now use transit to the Eastgate Park & Ride for getting to work, because Ride2 connects you that ďlast mileĒ to your workplace!

And you can use the service from your home to the Park & Ride as well if you live in the service area. For more details, visit the King County Metro Ride2 Page. AND there is still time to try Ride2 at the Eastgate Park & Ride and get a free Choose Your Way Bellevue Backpack!
Did you know that you can have a chance to earn awesome rewards just by logging your commute? Just by signing up for Choose your Way Bellevue rewards and logging eight non-drive alone commute trips a month you will be entered into a drawing for a chance to win a $100 REI gift card!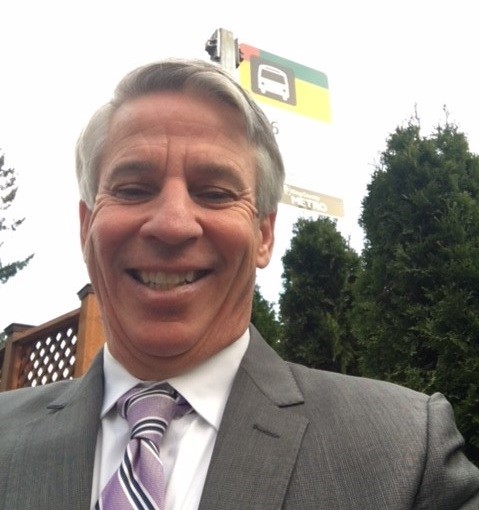 Take a page out of Brettís book! Brett is our November Mover of the Month and commutes regularly from Northeast Bellevue to Downtown Bellevue by bus. By choosing to commute by bus, Brett has had the opportunity to meet other members of the community!

Hereís what Brett has to say:

I choose to commute by bus out of convenience. I work at Morgan Stanley adjacent to the Bellevue Transit Center. Riding the bus makes me feel like I have a shared chauffeur every morning and afternoon!

Taking the bus has also given me the opportunity to meet a diverse group of people each day. I feel like Iím missing out if Iím not on the bus.

I have lived in the area for 5 years, row for the Lake Sammamish 5am rowing team and love to ski, sail, run and walk the neighborhood with my dog Hudson. Being the Mover of the Month made my day. The REI Gift Card will come in handy with ski season right around the corner!

Learn more about Choose Your Way Bellevue Rewards, including the Monthly Perks Program and 25 win $25 Drawing!

It's as easy as Just One Trip!
Just One Trip is going strong, and whether you've already signed up and earned your $25 reward, or you're just about to change the way you get around with us, you can refer others to the program and share your story. Or make a commitment today to change Just One Trip and find your new travel option rather than driving alone!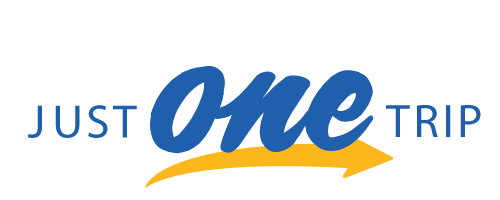 November 2018 Newsletter
In This Issue
Choose Your Way Bellevue is concerned about your privacy. We do not rent, sell or exchange email addresses.
©2020 Choose Your Way Bellevue. All rights reserved.

You are subscribed using the following email address: sample@tailoredmail.com. Not interested anymore? Unsubscribe

Was this forwarded to you? Sign up to receive your own copy.
View our privacy policy here...
Powered by